All Residents of Ekarro Housing Co-op
Dear Residents
1          Welfare Benefits Reforms
The Government passed several pieces of legislation under the welfare reforms: which may affect you personally. Therefore, its key to you have an understanding of what is planned and what has already occurred. Things like: housing benefits bedroom tax, universal credit, right to buy, rent caps
2          Rent Arrears Day
Rent statements were sent out last week to update residents on the present standing of their account. It also confirmed the rent figure after the rent increase took place. Please check the statement to confirm all your payments have been credited correctly. The staffs are still using Thursday as the rent arrears day.
If you are currently in arrears, please will you contact us so we can start to discuss how to resolve your arrears issue. Also, can you start making regular weekly or monthly payment so the arrears do not continue to increase. Additionally, below are some advice agencies that will be able to give you independence advice
www.lambethlawcentre.org/housing
www.mlcab.org.uk         citizen's advice
3          Bike Survey- Fire Risk Assessments
Have you placed a tag on your bike. The date to complete this exercise was 18th September 2015. Please make sure you have placed a tag on your bike to confirm ownership. We will now list all bikes in the hallways and plan to remove all untagged bikes. Members of the Finance and Maintenance subcommittee (FMSC) are investigating the possible options and locations sites for bikes hangers. Most of  the bikes will have to be removed from the hallways along with : sports equipment, prams, chair etc.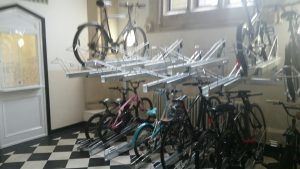 This is a legal requirement due to fire legislation 
What you can do to keep prevent fires        
There is also additional work that will have to be undertaken to improve the fire safety in some of the buildings. The Management Committee and I would appreciate your cooperation and support in this matter. Further information will be sent on this matter
4          Management Committee – Roadshow
The Management Committee are investigating the possibility of holding an  MC meeting in the Bonnington Sq/ Vauxhall Grove area so residents in that area  will have an opportunity to attend and increase their involvement in the Co-op
Feedback for MC – Is there a key issue that you would like to be put on the MC Agenda for discussion. Please tell us, and then we will collate your responses and see what is top of the list of your concerns and get this item on the agenda
5          What's happening in Lambeth
Please see the link below:
6          Volunteer
We will be having a volunteer work with us for the next 2-3 months. Her name is Rhoda Asante-Appiah so give Rhoda a warm welcome to Ekarro
7          Washing Machine and dryer
The coin machine was finally installed on 17th September 2015. So from now on it's a £1 coin for the washing machine and £0.50 for the dryer. The delay was because they required an additional bracket to complete the installation. Apologies, I know it's been like pulling teeth
If you have any queries, please do not hesitate to contact the office. I hope you find this Ekarro newsletter helpful and informative.