Annual Report 2015
What have we achieved in 2015/16
The passed year has been a busy period for the Co-op both for Committee members and the staff. The report below highlights some of the key actions and activities that have been completed during 2015
Responsive Maintenance
During the course of the year routine maintenance works has been carried out as required and with good response times. A number of new approved contractors have been appointed during the year: Aspects, Smith and Byford, Platinum Painters, Clean and Move.
Heating
Gas Servicing
A centralised spreadsheet has been created to monitor the gas servicing and gas cooker servicing .Ekarro has also employed Corgi Consultants as a gas auditing consultant to   advise to the DOH and organisation
Boilers
During the year a new pressurisation value was installed to the boiler in Ekarro House
Additionally, quotes have been obtained for the renewal of the boilers in Mondragon House for which the FMSC is reviewing. A value for money exercise was also conducted to look at the viability of installing individual gas boilers into the flats at Mondragon House. A new gas supplier was obtained in Sept 2015, the organisation moved from EON to SSE which will provide cost savings on the communal gas charges for the next 3 years
New boilers were installed May 2016, at Mondragon House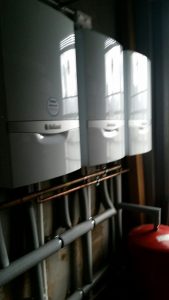 Planned Maintenance
Stock Condition Survey
A full stock condition survey was completed in 2015 inspecting the externals and communal hallways of Ekarro properties. This will help the organisation to plan for future planned works. Roof works was completed on Mondragon House following the stock condition survey
Health and Safety
Fire Risk Assessment was completed in: Ekarro, Mondragon and Barnabus Lodge during the year. Recommendations have been made which the MC is implementing and further works need to take place in 2016 to meet the recommendations
MC have completed a cycle survey and has agreed for new biker hangers to be installed in Ekarro and Mondragon House. This follows the recommendations from the fire risk assessment
Cleaning
Over the course of the year staff commend cleaning inspections and drafted a cleaning monitoring sheet to monitor the cleaning being completed by Cleanscape. Arrangements have been made to sweeping and washing down of the bin area for health and safety reasons
Finance
A new Finance Officer was recruited and commenced working with the team in April 2015
The organisation also moved from making payments by cheques to Online Banking. This has improved the speed in which invoices can be paid to supplier and contractors. Additionally, rent payments can be seen and reviewed more promptly. Finally, health and safety issues have been resolved as no cash is being collected and being held in the office
CHICs
Ekarro upgraded its IT systems from chic 9 to version 10 in May 2015. This is a window based system so has been more user friendly for staff. The broadband to the office
Has been increased and a central K drive has been created on the servers for saving policies and key information
Housing Management
On 6th April 2015 the Co-op  arrears stood at £59,210 and as at 22nd November 2015 they have reduced too £48,000 a 3 % decreases as a percentage of our annual rent. A rent arrears day was instituted on thursdays in July 2015.Weekly contact is being made with residents to update them on their rent arrears and to agree repayment plans. NTQ are being served and court applications are now made when required .In May 2015 an eviction took place of a long standing high rent arrears case.
Voids
Ekarro had two voids during 2015. The void works has been completed and the properties re-let
Laundry
The laundry was also painting during the year and the washing machines have been moved from the use of tokens to a coin machines which makes them more accessible for members in the evenings and week weekends
Complaints
A stage 2 complaint was investigated and actioned along with three stage 1 complaints during the year
Board Training
Board Training took place in March 2015 this was led by Blasé Lambert CCH covering the
the following subject areas. The principles of good governance, regulation and code of
Governance, legal responsibilities .Also a risk management exercise was conducted during
the course of the year Also, the Co-op has also reviewed its rules during the course of the
year
Memberships
The DOH has reinstated Ekarro membership of Co-op UK and the Small HA group- G320
Sub Committee
Terms of reference was completed for the MC and the FMSC. Terms are being worked on and will be completed by the other committees. Regular meetings have taken place for all subcommittees during the course of the year
Policy Review
A policy review has commenced during 2015 to date the following policies are in the process of being reviewed :Selections and allocations policy ,Complaints policy and procedure
Code of conduct and Policy on compensation
Office
The office was painted and new lights installed to bring the office within health and safety regulations on lighting. A new a new phone system was installed during the year
Staffing
A new DOH was recruited in January 2015 . A new Finance Officer was recruited in April 2015, a Minute Taker was recruited in March 2015 and a Volunteer in September 2015.
1-1 are regularly conducted during the course of the year
Plans for 2016
The DOH has commenced surveying bathrooms and it is planned for ten bathrooms to be renewed in the 2016/17 year and then ten more on a rolling cycle
Planned works
The renewal of the communal doors for Ekarro, Barnbus house along with the installation of new intercoms for both properties
Board Training
Further Board training is planned for during the coming year